Allawi warns of Iranian interference in Fallujah and stresses: Seen Soleimani is a big mistake
Allawi warns of Iranian interference in Fallujah and stresses: Seen Soleimani is a big mistake
Published on: 6-1-2016, 11:08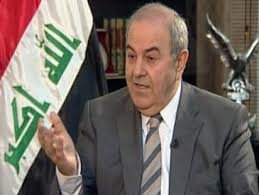 BAGHDAD / Sky Press: Mary finest
Warned former Iraqi Prime Minister, Iyad Allawi, on Wednesday, the Iranian interference in Fallujah, noting that Iraq today in front of a sectarian purges and not fighting to get rid of terrorism and fear, while noting that the presence of the commander of Iran's Qods Force, Qasem Soleimani, on the outskirts of Fallujah, a big mistake .
Allawi said in an interview with the newspaper "Okaz" seen by "Sky Press," "We are facing a sectarian cleansing, but not before the purge of terrorist operations, and there are fears that punishes half a million people, due to a dozen, or a few thousand of them." This reference to violations by the popular crowd and the bombing of government aviation for the city at random, what inflicted many casualties among civilians.
Allawi warned of "Iranian interference in Fallujah and Mosul / stressing that" this raises the sensitivity, because of some disciplinary teams in the "crowd", which proceeded to demolish areas that have liberalized, and the displacement of people.
And download Allawi responsibility sectarian atmosphere experienced by Iraq who took over power in the country, to regional and international powers, and "led by Iran, supporting those who grabbed power, which does not believe only in politics sectarianism, Vhmh, the maximum, and Cisse religion and doctrine, and even laws," the as he put it.
Regarding the appearance of the former prime minister, Nuri al-Maliki, with the commander of Iran's Qods Force, Qasem Soleimani, on the outskirts of Fallujah, Allawi stressed that "the emergence of al-Maliki along with Soleimani this way is a big mistake, without a doubt, and for Fallujah I refuse not only the Iranian presence, but the presence of any country in the armed conflict exists in Iraq. "
He added that "all our demands shorten the need for reinforcement, processing, and sometimes through the planes, but the intervention of a fighter from other countries teams, this is unacceptable, the war is against terrorism, and terrorism does not break only on Earth, but also should not be eradicated, intellectually and politically, and win the war are fomenting sectarian strife, but that win any battle is the unity of the community, and for this, I do not expect any result in this war on Daash. "
He stressed the former Iraqi prime minister that "what is happening is a consolidation of the political and sectarian divide, which is" which will generate further radicalization in the future, even if they went out declaring a military victory. "
The head of the Expediency Council, Ali Akbar Hashemi Rafsanjani admitted, on Tuesday, that Iran was involved in creating the crisis in Iraq, Syria, Lebanon and Afghanistan to defend its national interests.
skypressiq.net