This condition set by Washington in exchange for the elimination of Daash in Iraq
This condition set by Washington in exchange for the elimination of Daash in Iraq
Published on: 23-04-2016, 11:20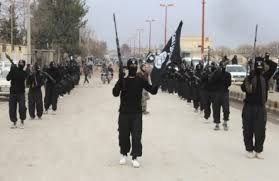 BAGHDAD / Hassan Shammari:
Officers in the Iraqi army revealed on Saturday, the US administration for the development of political reform in exchange for the elimination of the requirement to organize Daash in Iraq, noting that the battle depends on American air cover.
He said Colonel Mohamed Abdel Salam al-Saadi said in an interview I followed "Sky Press," "The battles have entered since the beginning of this month, breaking the bone between the parties stage, after starting block lines come into contact with the first organization in the country's main strongholds."
It is likely that "this year will be the beginning of the end of the organization in Iraq, and its transformation into the pockets of gangs and is capable of cohesion in any area." However, the other colleagues of the same colonel does not share his optimism, stressing that "it depends on a continued US military support, which is, finally, linked to the political file in the country," according to the military for those.
In the opinion submitted Hussein threshold, from the Armored Brigade II, northern Salahuddin province, that "progress is to our advantage, and the organization is in a defensive mode, but this depends on the United States first and foremost," adding that "air cover represents more than 60 per cent of agents decisiveness in all the battles we fight. and We have seen that this support depends on the political file in Baghdad, and the ability of Prime Minister Haider al-Abadi to meet the wishes of Washington political in several files with the Sunnis, and Kurds, and minorities as well as the Arab neighbors, "he said.
According to the Iraqi army reports to the loss of the "Daash" more than 200 fighters, including leading figures, over the past three weeks, compared with a similar number of civilians who go the victim of air raids and missile strikes.
And confirms an official source said that "Washington appears to be linking the interior and exterior of Iraq political reforms file between Daash war, so we can say that the war would end and be eliminated Daash whenever Washington ended fix what needs to be done in Iraq, most notably the elimination of Iranian hegemony in the joints of the Iraqi state and ending the sectarian marginalization and exclusion that governments have acted after the US invasion of the country in 2003 a policy, "he said.
For his part, was not surprised by Brigadier member of the Veterans Association in Iraq, Khalid al-Dulaimi, said in an interview for "new Arab", "linking US aid and military support with political reforms."
He adds that the frequent visits of American commanders in Iraq confirms that the next phase will be an investment, meaning that each city recovered from the control of Iraq Daash with the help of the Americans would be against which the political price within the agenda, see Washington poured welfare project calm and stability in Iraq ", according to him
skypressiq.net